Balls Head Reserve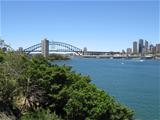 View from Balls Head
| | |
| --- | --- |
| Length | 60 minutes (return) |
| Grade | Medium - Lots of steps |
| Starting Point | Victoria Cross, North Sydney |
Instructions
Start at Victoria Cross, North Sydney.
Walk up Mount Street. Turn left onto Edwards Street.
Turn right onto Lord Street and follow it to the end.
At the end of Lord Street is a flight of steps.
Follow the steps down onto Bank Street.
Turn left onto Bank street.
Just before you cross the railway line is a walking path on your right.
Follow the path down all the way down to Euroka Street.
Turn left onto Euroka Street, underneath the railway line.
Just after you go under the railway line, turn right onto Woolcott Street.
Follow Woolcott street past Waverton Park, to Balls Head Road.
Turn left onto Balls Head Road and follow the road down until you get to Balls Head Drive (which is on your right).
Turn right onto Balls Head Drive and follow it into Balls Head Reserve.
The road goes round in a loop around the reserve and takes about 15 minutes to walk.
There are toilets located at the far end of the loop.
There are picnic areas with tables.
There are walking tracks through the bush and there is a walk called the Harbour View Walk towards the far end of the loop road.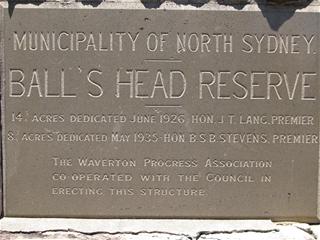 Sign at Balls Head Reserve