Old BP Site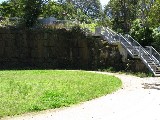 Metal steps leading to
upper areas of the site
| | |
| --- | --- |
| Length | 40 minutes (return) |
| Grade | Medium - some steep and narrow steps |
| Starting Point | Victoria Cross, North Sydney |
Instructions
Start at Victoria Cross, North Sydney.
Walk up Mount Street. Turn left onto Edwards Street.
Turn right onto Lord Street and follow it to the end.
At the end of Lord Street is a flight of steps.
Follow the steps down onto Bank Street.
Turn left onto Bank street.
Just before you cross the railway line is a walking path on your right.
Follow the path down all the way down to Euroka Street.
Turn left onto Euroka Street, underneath the railway line.


BP Site entrance
from Larkin street

Follow Euroka Street until the corner where it turns into Union Street.
On your right hand side is a foot bridge which crosses over the old Milsons Point railway line.
Cross the foot bridge and walk down to Commodore Cresent.
Cross over Commodore Cresent and walk down Henry Lawson steps, and keep going down to the sports field at Waverton Park.
Cross the sports field and head for the steps on the left hand side at the other side.
Climb the steps. At the top of the steps turn left. This is the entrance to the old BP site.
There are numerous walking tracks and metal walkways leading around the site, with many information boards.
There is also a track that leads all the way to Balls Head Road.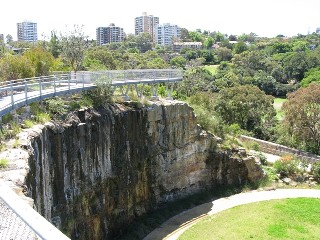 Walkway leading around one of the former tank stands