North Sydney Station to Wollstonecraft Station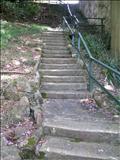 Steps to Belmont
Avenue
| | |
| --- | --- |
| Length | 35 minutes (one-way) |
| Grade | Steep steps |
| Starting Point | North Sydney Station, North Sydney |
Instructions
Start at Victoria Cross, North Sydney.
Walk up Mount Street. Turn left onto Edwards Street.
Turn right onto Lord Street and follow it to the end.
At the end of Lord Street is a flight of steps.
Follow the steps down onto Bank Street.
Turn left onto Bank street.
Just before you cross the railway line is a walking path on your right.
Follow the path down all the way down to Euroka Street.
Cross straight over Euroka Street, and walk up Carr Street, with the railway bridge on your left.
Keep following Carr street until the end (at King Street).
Follow the footpath through Brennan Park, down to the lower area and up the other side, onto Ivy Street.
Walk along Ivy Street and go down the footpath to the left at the end of Ivy Street.
Follow the footpath down, go straight along the bottom and up the steps to Belmont Avenue.
Turn left onto Belmont Avenue and follow it as the road turns right and left, until you get to Shirley Road.
Turn left onto Shirley Road and follow it until you get to the railway bridge.
Wollstonecraft station is down the path on your right. There is a path down either side of the station and a tunnel linking the two sides.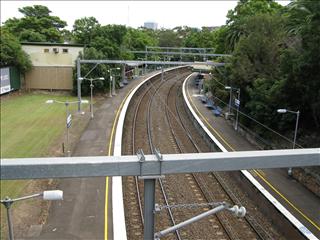 Wollstonecraft Station