Watt Park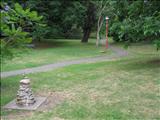 Watt Park
| | |
| --- | --- |
| Length | 35 minutes (return) |
| Grade | Medium - Lots of steps |
| Starting Point | Victoria Cross, North Sydney |
Instructions
Start at Victoria Cross, North Sydney.
Walk down Miller Street with the Greenwood Plaza on your left and continue to the corner of Blue Street.
Cross over Blue Street - Miller Street now turns into Blues Point Road.
On the left side of Blues Point Road is a footpath.
Follow the footpath down to Mackenzie Street.
Turn left onto Mackenzie Street and follow it to Walker Street.
Turn right onto Walker Street and walk down to Lavender Street.
Directly across Lavender Street is a set of steps leading down to Lavender Bay.
Walk down the steps to the bottom.
Turn right at the bottom of the steps and follow the side of the railway embankment.
When the road goes under the railway, follow it onto Lavender Cresent.
Cross over Lavander Cresent and Watt Park is straight ahead.
On the right hand side is a childrens play ground.
Follow the path through Watt Park.
Go up the small flight of steps to cross Lavender Cresent again.
There is a footpath that continues straight ahead.
Follow the footpath up more steps which come out on Waiwera street.
Turn right and follow Waiwera street to the end.
Cross over Lavender Street and walk up Miller Street to the intersection with Blues Point Road.
Cross over and continue up Miller Street to Victoria Cross.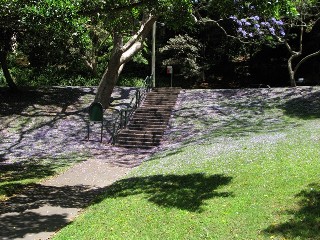 A carpet of jacaranda flowers at Watt Park