Bradfield Park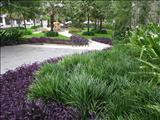 Bradfield Park north
| | |
| --- | --- |
| Length | 40 minutes (return) |
| Grade | Medium - Some steps |
| Starting Point | Victoria Cross, North Sydney |
Instructions
Start at Victoria Cross, North Sydney.
Walk down Miller Street with the Greenwood Plaza on your left and continue to the corner of Blue Street.
Cross over Blue Street - Miller Street now turns into Blues Point Road.
On the left side of Blues Point Road is a footpath.
Follow the footpath down to Mackenzie Street.
Turn left onto Mackenzie Street and follow it to Walker Street.
Turn right onto Walker Street and walk down to Lavender Street.
Directly across Lavender Street is a set of steps leading down to Lavender Bay.
Walk down the steps to the bottom.
Turn left at the bottom of the steps and follow the footpath along the water front.
The footpath will take you along the waterfront, past Luna Park and past the swimming pool.
Once past the swimming pool, you are at the south end of Bradfield Park and the foot of Sydney Harbour Bridge.
Bradfield park has good views over the harbour.
There are many information signs along Alfred Street (near Milsons Point Station) about the building of the bridge.
There is a childrens playground in the park next to Fitzroy Street.
Walk up Bradfield Park and then follow Alfred Street up past Milson Point railway station.
Keep walking up Alfred Street to the roundabout with Lavender Street.
Turn left along Lavender Street and continue along until you get back to Walker Street.
Turn right up Walker Street then left onto Mackenzie Street.
At the end of Mackenzie Street turn right to walk up the foot path back to Blue Street.
Cross over Blue Street and walk up Miller Street back to Victoria Cross.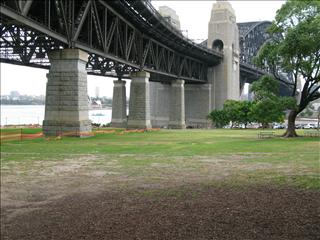 Sydney Harbour Bridge northern approach at Bradfield Park