Kurraba Point Reserve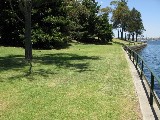 The waterfront at
Kurraba Point Reserve
| | |
| --- | --- |
| Length | 120 minutes (return) |
| Grade | Mostly easy - Some steps |
| Starting Point | Victoria Cross, North Sydney |
Instructions
Start at Victoria Cross, North Sydney.
Walk down the Pacific Highway on the Greenwood Plaza side of the highway.
Cross Blue Street and keep following the road.
Alongside the railway embankment there is a pedestrian crossing on your left.
Take the pedestrian crossing and walk over the bridge over the freeway.
Once on the other side of the bridge, the road is the High Street.
Continue to follow the High Street until you get to Clark Road.
Turn left on Clark Road until you get to Anderson Park.
On your right is a footpath near the water leading across Anderson Park.


Hodgson's Lookout

Follow it across the park and go up the steps at the end on to Kurraba Road.
Turn right on Kurraba Road and follow it, past Ben Boyd Road, Wycombe Road and Hollowforth Avenue.
Note that Kurraba Point Wharf is on your right on this road (before you get to Shell Cove Road).
After Shell Cove Road, Kurraba Road splits into two and forms a circle.
Follow Kurraba Road around to the right. In the middle of the circle is Hodgson's Lookout.
There is a playground here, seats and areas of shade.
Walk through the lookout and down the steps on the other side.
This is the upper level of the Kurraba Point Reserve.
Walk around to the path on the left hand side to head down to the lower part of the reserve.
Follow the water front around to the end.
Take the steps back up to Kurraba Road.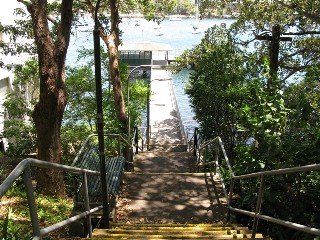 Kurraba Point Wharf