Kirribilli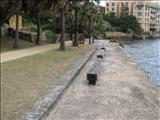 The walk along the
waterfront
| | |
| --- | --- |
| Length | 60 minutes (return) |
| Grade | Medium |
| Starting Point | Victoria Cross, North Sydney |
Instructions
Start at Victoria Cross, North Sydney.
Walk down Miller Street with the Greenwood Plaza on your left and continue to the corner of Blue Street.
Cross over Blue Street - Miller Street now turns into Blue Point Road.
On the left side of Blues Point Road is a footpath.
Follow the footpath down to Mackenzie Street.
Turn left onto Mackenzie Street and follow it to Walker Street.


View from the bottom of the
lookout, towards Denison
Island

Turn left onto Walker Street and almost immediately on your right is Middlemiss Street.
Walk down Middlemiss Street along side the harbour bridge approach.
When you get to the roundabout with Lavender Street, go straight over onto Alfred Street South.
Keep going down Alfred Street past Milsons Point Station, until you get to Fitzroy Street.
Turn left onto Fitzroy Street and go under the harbour bridge approach.
Turn right onto Broughton Street and follow it all the way down to Olympic Drive near the water front.
At the water front there is a footpath on your left that follows the water front.
Follow this path and go up the steps onto Waruda Street.
Follow Waruda Street all the way to the end. Near the end is a flight of steps going up to your left.
Walk up the steps and turn right onto Kirribilli Avenue.
Follow Kirribilli Avenue all the way to the end, past Admiralty House and Kirribilli House.
At the end is Lady Gowrie Lookout and a small park with steps leading down to the water's edge.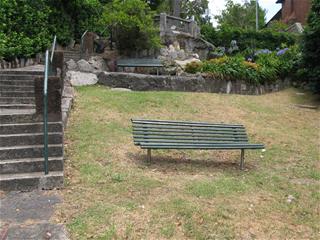 Lady Gowrie Lookout at the end of Kirribilli Avenue