Forsyth Park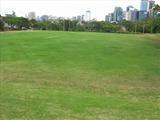 Forsyth Park
| | |
| --- | --- |
| Length | 40 minutes (return) |
| Grade | Easy |
| Starting Point | Victoria Cross, North Sydney |
Instructions
Start at Victoria Cross, North Sydney.
Walk down the Elizabeth Plaza pedestrian area to Mount Street.
Follow Mount Street and at the end go across the freeway to Alfred Street.
Turn left onto Alfred Street (walking on the right hand side of the road) and walk along until you get to Darley Street.
Turn right onto Darley Street. Where Darley Street bends to the right, there is a footpath on the left hand side.
Follow the footpath through to Nook Avenue.
Go straight ahead up Nook Avenue to Eaton Street (on the right hand side of Nook Avenue is one of the oldest buildings in North Sydney).
Turn right onto Eaton Street and walk down a short way until you come to a footpath between number 16 and 22 (on the left hand side).
Walk down the footpath and follow it through to Forsyth Park.